I first met Sheila Johnston, from the Gull Chain of Lakes Association, at Minnesota Lakes and Rivers 2016 Aquatic Invaders Summit. She joined MLR at that time and has been an active member since then. We see each other at many lake related events, like the Harvest Supper in Brainerd, MLR Annual Water Connects Us All meetings (the next one is April 26-28, 2024) and other local events in the Gull Lake area.
A few years ago Sheila, Kris Driessen and Dorothy Whitmer worked with MLR to take the Lake Steward Program they had developed for GCOLA statewide. Today there are over 30 lake associations statewide participating in Lake Steward with more joining the effort almost weekly. She is a great example of how a local lake advocate can, by partnering with MLR, take their passion statewide and protect not only the specific lake they enjoy, but benefit all lakes in Minnesota.
For the last few years Sheila has put her passion for protecting loons into action. When I receive email inquiries from MLR members that have questions about loon protection, I often connect them with Sheila.
"My loon-safe boating mission started several years ago when I checked on my favorite Upper Gull loon family, Ole and Lena, and their 5 week old chick the morning after the 4th of July."
Ole and Lena reared their chick just outside of a channel on the lake. Unfortunately the area is a bottleneck, concentrating boat and jet ski traffic. Many watercraft operators don't slow down to accommodate the loons. What happened next ignited Sheila's passion.
Said Sheila, "The loon pair in this area are very comfortable with me. Lena swam up to the bow of my kayak and she was so close she was almost touching it. She looked straight at me. I said, "Lena, why are you coming so close today?" She swam alongside me and then over to the nearby rushes, so I followed. There was her chick…dead from a boat strike. She stayed near the dead chick wailing for a few days. It was heartbreaking."
Loons face a number of threats, some, like predation from muskies, large northern and eagles, and avian diseases are, natural.
But humans are a huge cause of loon death. We are loving these iconic birds to death. USGS studies report that many nest failure occur when people come too close and drive the loon off the nest. Lead poisoning accounts for about twenty percent of adult loon mortality. Trauma from being struck by a watercraft account for about 20% more. Entanglement in fishing line and nets cause significant mortality. A smaller percentage are shot.
Sheila began investigating. Gull Lake is a highly recreational lake and she learned of reports that wakes from wake surfing watercraft had washed out loon nests, and other high speed boats had struck loons. She documented jet skiers circling loons and harassing them.
Sheila became a strong supporter of MLR's efforts to pass legislation requiring all boaters to take a boater education and certification course that would include training in loon protection. She also worked at the local level to protect the loons on the lake she lives on. Sheila enlisted the help of her lake association. The first step was to get messaging and information at the public boat launches and boat rental businesses. The Gull Chain of Lakes Association distributes 2000 loon-safe boating tip cards each summer to area boat rental businesses and resorts to share with boat rental customers.
They then began to work to put "Loon Caution" buoys in loon chick rearing areas with heavy boat traffic, but the permitting process was difficult.
So they did what they could where they were with what they had.
First, she and the lake association enlisted help from lake association members. "Since we could not initially get permission for the buoys, we had large yellow signs with black lettering made….!"


Lake association members put these signs up since no permits were required. The lake association also put educational signs up at the boat ramps.
Red tape prevented them from installing buoys in the lake. They needed an advocate. Sheila reached out to her state representative and they engaged the local sheriff's office. It took several years, and with the help of GCOLA's Safety and Recreation Committee Chair, Jay Chaney, they finally secured the necessary permits to install buoys where boating traffic impacted loons and chicks.
"Although securing permission for the buoys was a long process, I have been lucky to establish a strong relationship with the Cass County Sheriff Dept water patrol, and he cares about protecting loons," said Johnston. The lake association contracts with a local marina to install and remove the buoys. Now, with the signs and loon caution buoys in place Sheila notes that many boaters are still careless near loons. But she has hope. Johnston said, "As I sit in my kayak observing boats, I often see kids reading the signs and telling their parents to watch out for loons and slow down."
For other lake advocates that are concerned about the impact of boat traffic on loons, Sheila suggests reaching out to the DNR non game wildlife officer to see if they can be of help, and contact your county sheriff's office to check on buoy regulations.
Some people worry that putting warning signs near loon nesting sites that are well hidden will draw boaters in to see the nest. But for rearing areas and loon nests that are easily visible, like a prominent natural nest that could be easily washed out or an artificial loon nesting platform, Sheila believes the signs can be helpful.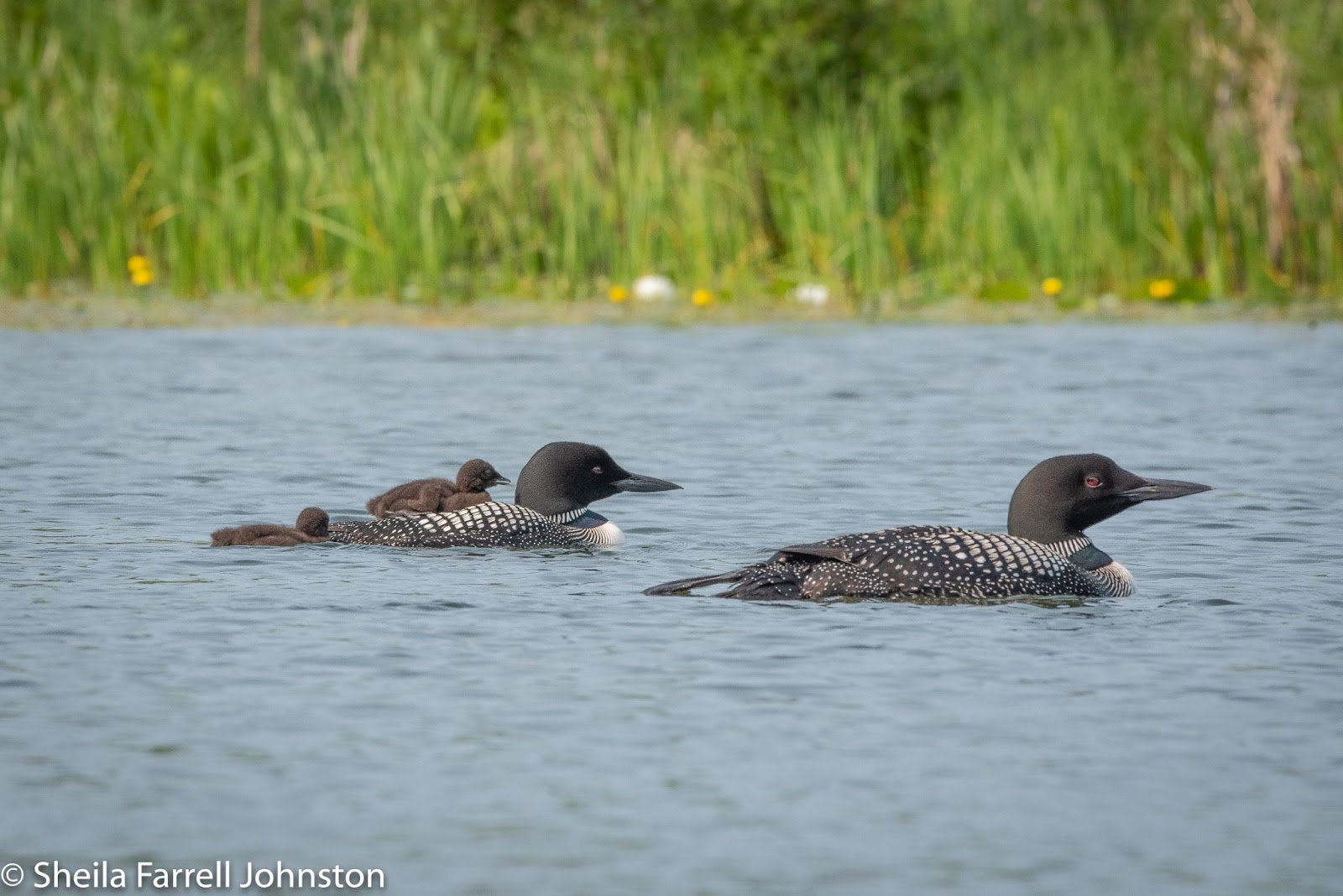 Sheila's next step is to work with partners to develop a network of trained volunteers in out state Minnesota to help rescue sick and injured loons, and transport them to DNR certified wildlife rehabilitation clinics. This initiative was put on hold in 2023, but plans are in the works for 2024.
Loons are important sentinels of water quality. Loons need good water clarity for fishing and feeding themselves and their chicks. When water is polluted by fertilizer run off, pet feces, shore land fire pits etc after rain storms resulting in short term pollution events, chick weights are lower, and chick mortality is higher. The bottom line is protecting water quality protects loons. Preserving and restoring natural shorelines protects water quality and provides loons natural habitat for nesting. Lake stewardship and loon conservancy go hand in hand.
Loons are also a central part of our shared lake legacy. They are central to our enjoyment of the north woods lakes, and so have a significant economic impact on our tourism economies. MLR, with the help of local lake advocates, will continue to work to protect loons by supporting loon habitat with the Lake Steward program and shoreline conservation, reduce poisoning with the Get the Lead Out campaigns, advancing the use of non-lead alternative fishing tackle, and support increased funding for loon platforms and education focused on proper boating practices around loons and loon nesting areas.
With active and engaged lake advocates working at the local level, Lake Associations and Coalition of Lake Associations working at the county level, and  MLR working at the stater level, we can ensure that our children, grandchildren and great grandchildren will enjoy seeing these iconic birds and hearing their call across the waters in the night.
If you find a loon that has been injured, and want to talk with a loon rescue expert, call:
Sheila 612 226-6571
Julie 816 516-0759
Terri 612 360-3580