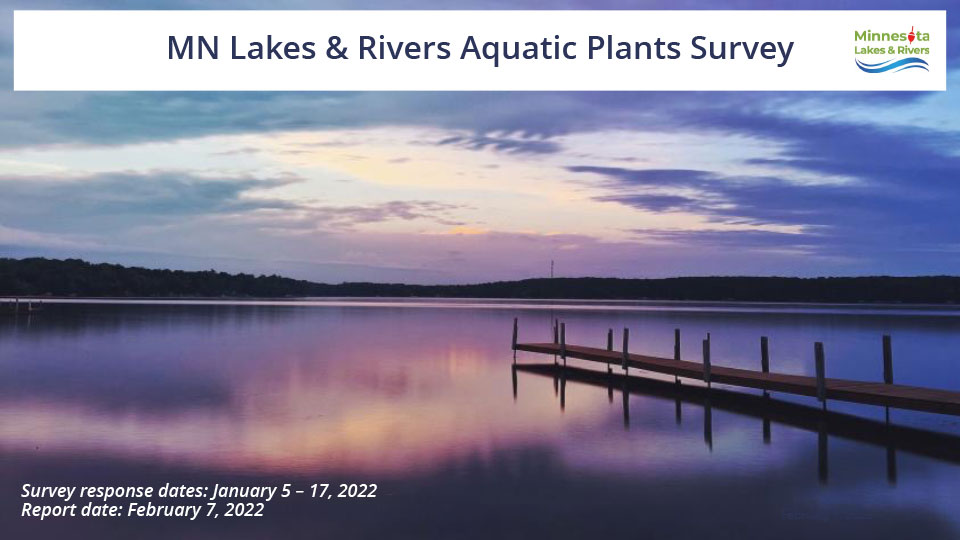 Most citizens believe that the MN DNR has the responsibility to protect and manage our public waters, and they would be right. But what most do not understand is that while the MN DNR has the authority and responsibility, lake associations do most of the planning and actual work, and pay the majority of the costs. A new survey by Minnesota Lakes and Rivers Advocates shows that there are significant gaps in Minnesota's aquatic plant management program.
Lake associations feel the responsibility for lake protection but have no authority, and the MN DNR, who has the authority, has limited budget and resources to do the work. Said Jeff Forester, Executive Director of Minnesota Lakes and Rivers Advocates, "The results show that by focusing on what needs to be done to build more efficient and effective partnerships, Minnesota could improve our lake ecology outcomes."
Lake associations are critical partners for the MN DNR in lake work. A 2017 study by Concordia College, Moorehead found that lake associations raise and spend more than $6.25 million on lake improvement efforts and donate more than 1.2 million volunteer hours towards lake improvement efforts annually. Lake Associations are by far the largest lake conservation group in Minnesota. "Because lake associations play such an important role as partners with the MN DNR, we wanted to take a look at that partnership from the lake association perspective," said Forester.
Warming weather trends, aquatic invasive species spread, and nutrient loading from runoff pollution accelerates the rate of change in our lakes. After MLR lobbied successfully to create the $850k Aquatic Invasive Species grants for 2022, the DNR took the step of using this funding to support more rigorous data collection in invasive plant management programs. "The new grant guidelines created by the MN DNR for 2022 were a good step. But that funding was one time only. We need the legislature to make these grants permanent."The survey results reveal that even with improved grant guidelines, our current Aquatic Plant Management system falls short of today's needs, is inefficient and is financially unsustainable for lake associations. Said Jeff Forester, "The programs, budgets and goals from the 1980s are insufficient to meet the needs of today."
Key Findings
74% of respondents reported current problems with aquatic plants on Minnesota Lakes.
77% of those lakes report they are organizing to combat the problems within their lake communities.
While 80+% of lake associations feel that the city, county or state should be responsible for maintaining a healthy plant community in Minnesota lakes, almost 90% report that homeowners and lake associations have had to be responsible for it.
Only 31% of respondents feel the DNR is proactively working to solve nuisance plant issues.
While 92% have sought to gain permits for their own treatments, less than 15% of the total feel the DNR has organized itself efficiently to address their concerns.
According to the survey, a majority of lake associations recognize that the MN DNR is a responsive partner in their efforts to protect and manage the public waters while also reporting that there is a need for the MN DNR or other governmental units to take a more proactive management role. Defining our common goals and the roles and jurisdictions of the different groups engaged in aquatic plant management programs is a critical first step.
"One of the clear takeaways from this survey is that it is time to begin discussions around lake and river management that include increasing the quality and quantity of our data collection, deeper scientific inquiry, recalibrating our goals, and defining funding sources for this work. But most importantly, if we hope to meet the water quality challenges we face in the future, we will have to create stronger, more transparent, more accountable and more functional partnerships among local civic and government groups," said Jeff Forester of Minnesota Lakes and Rivers Advocates. "Different organizations have different capacities, roles and jurisdictions. We must develop and commit to a process that leverages these different capacities and strengths, and brings them together in a strategic way to protect Minnesota's most valuable resource, our water."