by David Glass, President of the Cedar Lake Conservation Club, May 30, 2023.
The Cedar Lake Conservation Club (CLCC) and the Wright Soil and Water Conservation District (WSWCD) are pleased to announce the addition of a second CD3 (clean, drain, dry, dispose) station on Cedar Lake in Wright County.
A CD3 station is a solar powered, free to use , self-service, watercraft cleaning station that includes a wet/dry vacuum, blower system, tethered hand tools, and lights. The stations are designed to assist boaters in – as well as educate them about the importance of – reducing the spread of aquatic invasive species (AIS).
The first CD3 station in Wright County was a portable unit placed at Schroeder Park on Cedar Lake in May 2020. Cedar Lake's second CD3 station is installed on a concrete slab at the public access on County Road 6 once the snow melts.
After this year, there will be five CD3 stations in Wright County. Last year, Minnesota Lakes and Rivers, using a grant from the Environment and Natural resources Trust Fund (lottery proceeds) gifted two stations to Wright County. These were installed on Pleasant Lake as a way to help prevent starry stonewort from spreading to other area lakes. Said Jeff Forester, Executive Director of MLR, "By providing the tools boaters need where they need them, we will lower the risk of starry stonewort spread to other lakes in Wright County."
This year, in addition to Cedar Lake's new CD3 station, Sugar Lake will have its first CD3 station installed at its south public access after the site has been prepped.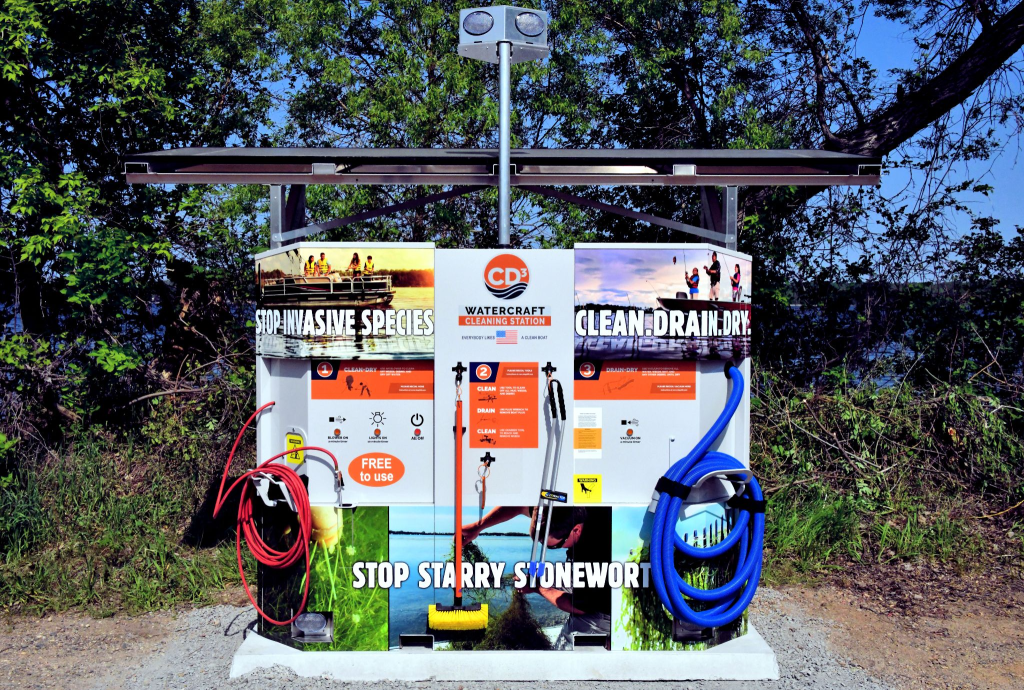 The four newest CD3 stations are all co-sponsored by the WSWCD, while the Schroeder Park station was a joint effort between CLCC and the Wright County Parks and Recreation Department. Current operating agreements call for a five-year operating period. In all cases, Wright County is the ultimate owner of the stations – with WSWCD and the Parks Department each respectively responsible for unit maintenance.
The new Cedar Lake CD3 was purchased by the CLCC and donated to Wright County. The Schroder Park CD3 was a cost-share between the CLCC and the Parks Department. Similarly, Sugar Lake's CD3 is a cost-share between the lake and WSWCD.
According to Alicia O'Hare of WSWCD, "CD3 stations are great for cleaning off equipment after a brief trip on the water. WSWCD is excited to facilitate free to use tools at the access to support clean, drain, dry, dispose activities."
CLCC President David Glass adds, "The CLCC Board determined a second CD3 will be beneficial as our data indicates almost half of all boats launched into the lake are done at the County Road 6 landing. These tools will lessen the chance of transferring AIS issues to wherever the boat is launched next."
For further information contact:
Alicia O'Hare Alicia.ohare@usda.gov
David Glass glassdavida@gmail.com