Sen Carrie Ruud Named 2022 Lake Advocate
On Sept. 24th, at a meeting of over 20 lake association leaders from across the state,
Minnesota Lakes and Rivers Advocates Executive Director Jeff Forester awarded Sen. Carrie
Ruud the 2022 Lake Advocate of the year award.

In presenting the award, Jeff Forester said, "There is no legislator more focused on lake and
river issues than Senator Ruud. As Chair of the Senate Environment and Natural Resources
and Legacy Funding Committee, Senator Ruud has always had an open door with us, and has
taken the time to understand our issues and work towards solutions."

The 2022 Lake Advocate Award was a handmade paddle from the Sanborn Canoe Company
located in Winona, Minnesota. Mr. Forester commented, "For your future trips in waters you did
so much to protect and restore."
Said Senator Ruud, "I feel incredibly honored to be the first recipient of this beautiful and prestigious award," said Ruud. "I am passionate about the outdoors and all the great waterways and trails our state offers. When I came to the legislature, my goal was to work with advocates to preserve all the natural resources that make our state unique. Some of my favorite memories have taken place on the lakes and rivers of Minnesota, and it is important that we do all we can to preserve accessibility to these natural wonders, so they may be enjoyed by generations to come. Though my time in the Senate has come to an end, I hope that the legacy of preservation continues long into the future."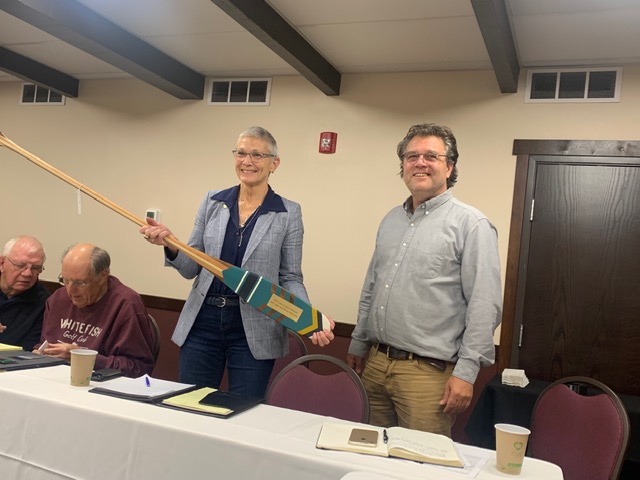 Twenty years ago, in 2003, Senator Ruud began her career by authoring Senate File 2814, a
bill to remove the expiration date so that the shoreland protection program would continue,
bonding to extend the Paul Bunyan state trail, refine the environmental impact statement
requirements for actions that impact the public waters, increase the capacity of small operators
to sell hunting and fishing licenses. Over her 20 year career, Sen. Ruud was the Chief Author
on bills to clarify shoreland standards, provide facilities for conservation research, lower the
property taxes on unimproved shorelines, require a report on Mille Lacs aquatic invasive
species impacts.

In 2017 Senator Ruud became the Chair of the Senate Environment and Natural Resources
Policy and Legacy Funding Committee. She used her leadership position to advance work in
AIS research at the Minnesota Aquatic Invasive Species Research Center, provide funding to
try to stop the advance of starry stonewort, matching grants for lake association AIS
management, and fund One Watershed One Plan efforts to improve water quality across the
state.
She made progress despite a climate in the Senate that was not always conducive to clean
water policy and funding.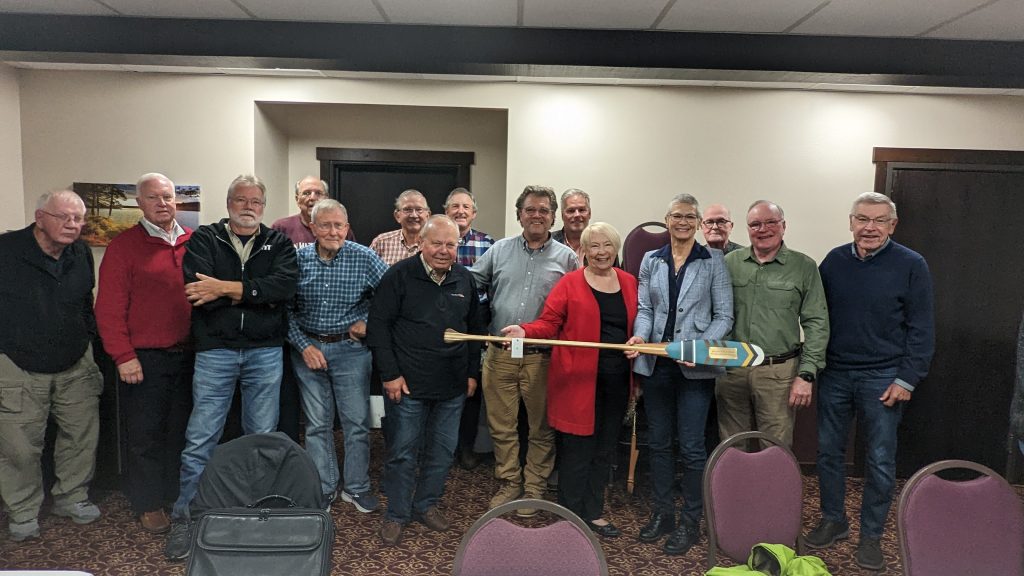 In a recent Star Tribune interview with Sen. Carrie Ruud, she told Star Tribune reporter
Tony Kennedy of the legislation she was most proud to work on during her tenure:

"… highlights were teaming up with former state Sen. Gen Olson of the Twin Cities to introduce
the first aquatic invasive species bill. Funding the Minnesota Aquatic Invasive Species
Research Center. … Increasing hunting and fishing license fees wanted by the DNR.
Increasing penalties for trespassing by snowmobilers. …. Steadily funding Soil and Water
Conservation Districts to keep land and water projects alive in every Minnesota county."

During the award ceremony, Senator Ruud encouraged lake advocates to stress that
Water Connects Us All. Water resources are critical because is not only the basis of our local
recreation-based economies, but is the basis of local property tax base.

Senator Ruud is the very first recipient of the Lake Advocate of the Year, launched to recognize people,
groups, and organizations who have taken a leadership role to advance the MLR mission to
"Protect Minnesota's lake and river heritage by forging powerful links among lakes, lake advocates and policy makers." Few people in Minnesota have done more to protect our public
waters than Senator Ruud.